It's Sound Check!
with Mark Van Kool
Boom Operators are tasked not only with being the eyes and ears for the mixer on set, but have the pressure of getting the best recordings possible, whilst gaining the trust of crew and cast. Kicking off Sound Check! 2019 is Sydney-based boom operator Mark Van Kool.
I was first drawn to sound when I was about 15 years old, at the movies the picture was great but the sound was lacking in quality. This made me want to investigate the course or path of sound, from the microphone to the speakers and help to make it better on the ears.
The most memorable project that I've worked on has to be the Feature Film "Unbroken" recorded by David Lee. We had so many variables including locations, weather, studios and actors. A real pleasure that one.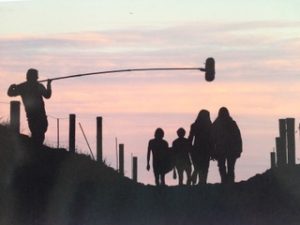 If I wasn't working in this Industry I don't know what I would be doing, I just love the work the people and the places I've been to.
If I could have worked on any sound track in history well, A Star Is Born (the latest one) would be a dream because of the challenges that it had and the way the sound team pulled it off, they did a fantastic job 100%.
The best advice I've been given, "we were all green once," and if you think you know everything, you're a d**khead.