It's Sound Check!
with the 2018 Greg Bell Student Encouragement Nominees
Sound Check! is an opportunity for ASSG members to share a little about their career and passion for sound. This month's Sound Check! shines the spotlight on this year's Greg Bell Student Encouragement Nominees.
Introducing the new blood flowing into the mix (pun intended)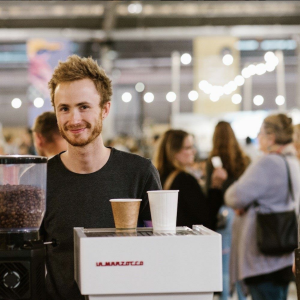 I've had a passion for music for as long as I remember and always wanted to find a way to get involved in the industry. I attended an open night for SAE and from there found my pathway towards a career as an Audio Engineer.
My most memorable project was when I was given the opportunity to assist one of my lecturers on his project, Chapel Lane Live at Chapel Lane Studios. I found the process exceptionally rewarding and it was a great fit for where I am interested in going with my future career.
Key skills or attributes to working in this industry, as with all industries, I believe that customer service and satisfaction is always of paramount importance. Keeping your clients happy and comfortable, being approachable, efficient, and allowing yourself to establish connections and build valuable, meaningful relationships.
If I could have worked on any soundtrack in history, it would have been Baby Driver, for the sound design. The way Julian Slater and his team intertwined the music and sound effects with the picture was extremely clever.
The best advice I've been given is 'Find something you love doing and you'll never work a day in your life'.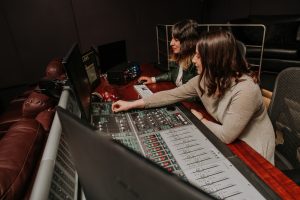 I accidentally fell into sound because no one else in my group assignments wanted to do it, and then very quickly fell in love with it. Coming from a musical background, a lot of it came to me intuitively and I loved being able to turn a good story into a proper film. It's a creative perfectionist's dream!
It helped having an incredibly passionate, talented and caring female lecturer like Tfer Newsome for sound editing/recording as it encouraged me to excel in an industry predominantly dominated by men. Also, I don't understand cameras.
My most memorable project would have to be the very first documentary I was the sound recordist on, called Grey Space. I was essentially learning how to record on the fly, and there was no better way to figure it out than under the pressure of shooting a documentary in a week, surrounded by bees. The crew trusted me, even when I'd never recorded with that gear before, because of the determination I had, and my love for the project. That single opportunity essentially launched my career, as I was able to do post sound for the documentary as well, and prove my abilities to a lot of people. From that one shoot I haven't had a moments rest!It was also a very memorable project because of the time we were shooting on the roof of a building and the bees attacked us. We all fell victim.
What I've learnt very quickly is that you have to be unabashedly, and courageously yourself. You must trust your instincts and trust the right people to help guide you. But most importantly, you have to be nice. At the end of the day we are always refining our skills and getting better at what we do, but if you're not nice you won't get the work.
If I could have worked on any soundtrack in history it would typically be the clichéd original Jurassic Park, but that's mostly because I love Dinosaurs! However, something more recent that I would have loved to have been involved in would be Arrival. I loved its naturalistic and realistic approach to an 'alien invasion' that flipped the script on any other alien film I'd seen before. Communication, language, and the fluidity of time was integral to the story and the way all of it was aurally expressed blew my mind! One of the most memorable cinematic experiences I've had.
Some of the best advice I've been given is "any sound's a sound, I have found" – Lachlan Harris. I think it applies to more than just sound though, in that we should never take things for granted, and that you never know what can come from something you didn't think was anything. Seize every opportunity that comes your way!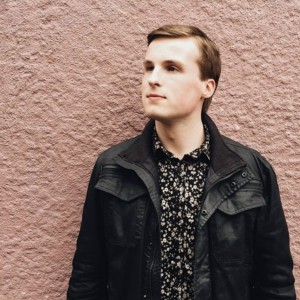 Whenever I watched a film in the past, even as a young child, I was more engrossed in the sound of the film, even more than the cinematography. I felt I had a natural passion for sound and decided that I should study the Advanced Diploma at Sydney Film School, specialising in sound.
My most memorable project, or the project that truly defined my passion with sound was the film 'Don't Talk ToStrangers'. It was directed by a student in my semester during my studies at Sydney Film School. It made me realise what it truly meant to be a great sound designer and to help to create a great film.
I think key skills or attributes needed to work in this industry technically minded, focused, passionate, diligent, thorough and loyal in this industry.
If I could have worked on any soundtrack in history, it would have been from the film 'The Exorcist' 1973. The fear was driven by the soundtrack.
The best advice I've been given is to work hard and always be humble.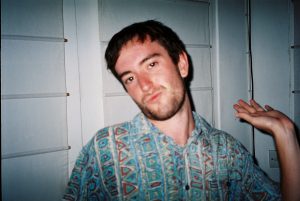 I decided to study sound mid way through last year. I've always had a really passionate relationship with music throughout my whole life. I was pursuing a career in Nursing and really did not enjoy it. After reading a book called The Alchemist whilst working at an Aged Care facility I knew that I wanted a career in music.
My most memorable project so far was having the pleasure of recording Taylor Pfeiffer. She is VERY talented which made the process really easy when recording. Taylor was also very patient while we were learning how to use the desk. Having a quality recording to mix is so much easier to work with.
Some key skills or attributes I think you need for working in this industry is a positive attitude towards everything you're doing. People feed off of and gravitate towards positivity. Also giving 100% on everything you work on, hard work does not go unnoticed.
If I could have worked on any soundtrack in history, it would be the film Trouble Man. Working with Marvin Gaye would be absolutely unreal. His music is so beautiful and good for the soul. Anyone reading this please do yourself a favour and listen to his music. RIP to the king, know that you're missed down here on earth.
The best advice I've been given is to work hard and make as many mistakes as you can. Make sure you're learning from these mistakes and progressing/growing as a person. Don't live your life just being comfortable.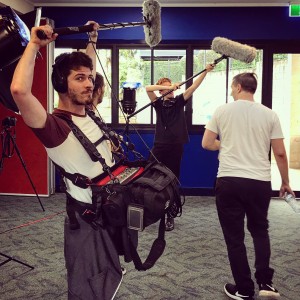 I decided to study sound primarily through my interest in music composition and recording. I had always been fascinated by music and wanted to understand how it all worked. Thats where my interest in sound began and developed into audio engineering for live events to studio recording at SAE and then eventually to sound recording and design for audio visual media (film, animation & games).
My most memorable project is hard to pick, but I would have to say probably the most memorable of them would be my involvement as second unit sound recording for the Supercheap Auto "Best Performing Oils" 2017 video shoot. Getting to hook up mics to trophy trucks and assist in the recording of both onboard units as well as a 5.1 surround sound holophone mic was an amazing experience. It also sounded pretty awesome in the final mix.
I think the key skills or attributes to working in this industry are having a good personality and work ethic as well as having the ability to network. Without a good network its quite hard to get work as an individual and if you aren't personable and can work well with an array of different personalities and egos others aren't going to be overly keen to work with you.
If I could have worked on any soundtrack in history, it would have to be on the soundtrack for the original Star Wars trilogy. As such a pioneering work in terms of sound effect design it would have been a dream to work with Ben Burtt and create some of the most iconic sounds used in film.
Some of the best advice I've been given has been to always put your best foot forward especially when making first impressions. You only get one chance to make a lasting first impression. And in terms of general work ideologies a favourite quote of mine is: "Never half ass two things. Whole ass one thing" – Ron Swanson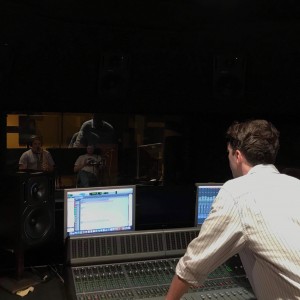 My decision to study sound was inspired by my passion for music. I've always been fascinated how sound, as an intangible art-form, can manipulate the listener's emotive response. Sound and music are two very important aspects of cinema, appreciated more and more as a single creative vision, and I've learned to appreciate sound design as a unique form of music – harmonising pitches to tell a story.
To date, my most memorable project would have to be my involvement in Of Our Fathers (dir. Matthew Alexander Hill). It was one of my first sound design and composition gigs while studying at AFTRS, and due to extremely tight deadlines, the entire creative process was crammed into an intense three day schedule. Though I still cringe at some naive mistakes made in the process, I value it as an important learning curve for appreciating time management, effective communication with peers, and my creative capabilities under the pressure of time.
What do I think are key skills or attributes to working in this industry? DATA MANAGEMENT! And more importantly, open-mindedness to collaborators' perspectives, being responsive to constructive criticism, and having a positive attitude to the tasks you're performing. These attributes will ensure effective communication between collaborators, which I think is key to every successful creative endeavour.

If I could have worked on any soundtrack in history, as a sound designer, I'd love to work on any David Lynch or Daren Aronofsky project. Let's say Mulholland Drive. I love the dreamlike ambivalence of the characters' motives, and believe that the sound design in the film separates it from feeling like any other Hollywood production. Its almost as if it speaks for Lynch, and it elevates the narrative by creating a mysterious subtext to every scene.

The best advice I've been given is when progress is slowing down, I like to remind myself of a phrase emphasised by basketball player Joel Embiid, "trust the process". It helps me see the bigger picture of the activity I'm struggling to execute, and boosts my motivation knowing that I am working hard on my weaknesses. I often find myself also saying this while I'm linking missing files in Pro Tools…